The greenhouses of the Jardin des Plantes; a world tour under glass
Posted in Paris le 5 March 2020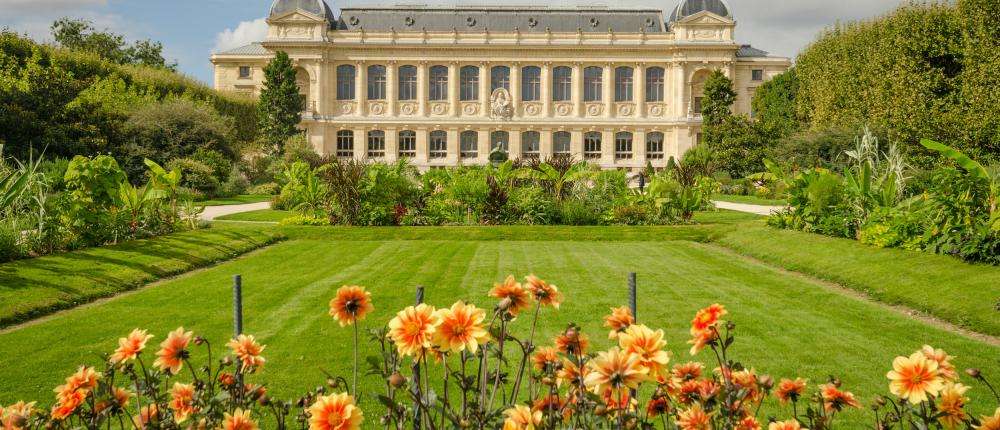 During your visit to the peaceful and majestic Jardin des Plantes botanical garden, discover its four Grandes Serres (Grand Greenhouses). Fabulous flora and an ingenious museography transport the visitor to a wondrous green world where they can learn about environmental fragility and the challenges faced by nature.
A place steeped in history
The Grandes Serres of the Jardin des Plantes are certainly the best known in Paris. Now classified as historical monuments, they have recently been renovated and were reopened to the public in 2010. Today, these four fascinating spaces offer an exploration of extraordinary gardens teeming with plant life from all over the world!
Head for the tropical rainforests
The tropics in Paris? You're not dreaming because your visit begins in a rainforest amidst banana trees, fig trees, ferns, orchids and other tropical wonders. The largest and most unusually shaped of the Grandes Serres, this greenhouse transports you beyond the horizons where luxuriant vegetation abounds.
Plants meeting the challenge of deserts and arid habitats
The newest of the Grandes Serres recreates the hot and dry conditions of deserts and other arid habitats and is absolutely breathtaking. Explore the kingdom of cacti and succulents, where spines, hairs and strange shapes help plants to survive and even thrive in some of the most hostile environments on Earth!
A little tour of New Caledonia
You now enter the smallest greenhouse, dedicated to the highly specialised flora of the New Caledonia archipelago. Here you'll learn a lot about endangered species and the fragility of this ecosystem.
All about the genesis of plants
The last step of your visit will be the greenhouse in which the genesis and evolution of plants is featured. Embark on an incredible journey of more than 400 million years into the remote past.
You'll be delighted to know that your admission to the Grandes Serres also entitles you to visit the Botanical Gallery.
******
More information :
- Serres du Jardin des Plantes
---
Hotel de l'Esperance, a lovely hotel in the 5th arrondissement of Paris